Building Change Leverages its Weatherization Work as it Pursues resources to implement additional  Sustainable Modifications for Low- and Moderate-Income Residents.
Our Sustainable Modifications Work
Building Change has been improving the lives of low to moderate income homeowners in Maryland since 2018. What began with the help of Maryland Energy Administration grants addressing weatherization has proven to be an approach that works. Our goal is to replicate this program's success in other communities across the country.
That said, we are currently exploring ways to implement additional sustainable modifications for residents beyond weatherization. Please look for additional updates in the coming months as we develop strategic initiatives in this area.
Maryland Weatherization Services
Please click the button below to access an application to receive a sustainable modification performed by Building Change and its partners.
Donors
Your contributions to this effort will make a tangible impact not only for individual home and building owners, but by raising community morale. Neighborhoods can become cleaner and healthier. Home and building occupants can become healthier and happier in environments that meet their needs. Please consider making a donation today!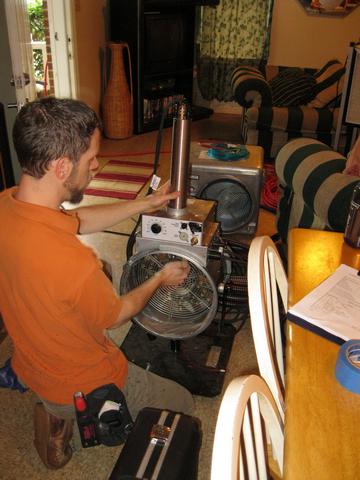 Above: A technician assembles the spray sealant injection system to seal HVAC ducts from the inside.
Testimonials
"…Professional, courteous, and reliable. They treated me with respect and dignity." 
"As a single mom, the cost savings really helps." 
"They went out of their way to answer all my questions." 
"I am pleased my house /appliances will be more energy efficient, save me
money and make the world more pollution-free."